LF2556 - Stamps - Happy Hugs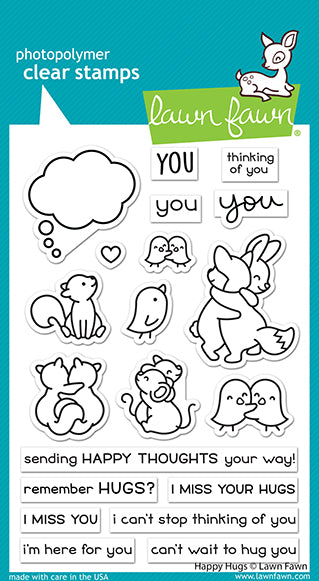 LF2556 - Stamps - Happy Hugs
Regular price
$2100
$21.00
Don't you miss in-person hugs? We do! Send some "socially distanced" love to your friends and family with this adorable stamp set. Let your loved ones know that you are thinking of them, and can't wait to meet up in person really soon!
Coordinating set ideas: Pair this with Scootin' By and Flippin' Awesome to create an adorable, interactive card with the fox and bunny running towards each other and hugging! Add Reveal Wheel Thought Bubble Add-On to make a fun card. Fill the interactive thought bubble with words from this set.
Coordinating Lawn Cuts: Happy Hugs Lawn Cuts
approximate sizes:
hugging fox and bunny: 1 1/2" x 1 3/4"
hugging squirrels: 1" x 1"
hugging mice: 1" x 1"
small hugging birds: 5/8" x 1/2"
sitting squirrel: 1" x 7/8"
speech bubble: 1 1/2" x 1 1/2"