LF1958 - Birthday Before n Afters - Stamp Set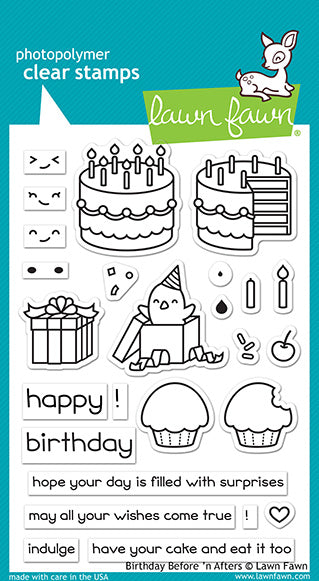 LF1958 - Birthday Before n Afters - Stamp Set
Regular price
$1900
$19.00
In stock, ready to ship

Inventory on the way
Have your cake and eat it too! This set is perfect for birthday cards, or for anyone who loves cake (which is pretty much everyone!)
Before n Afters sets feature a before and after image that works great on the outside and inside of cards, or with the Magic Picture Changer die!
Coordinating Lawn Cuts: Birthday Before 'n Afters Lawn Cuts
Coordinating set ideas:
Pair this set with Magic Picture Changer for a cute interactive card, featuring a birthday cake that gets eaten with the pull of a tab!
Use the sentiments in this set with Peacock Before n Afters for a peacock-themed birthday card.
Approximate sizes:
whole cake: 1 3/8" x 1 1/2"
sliced cake: 1 3/8" x 1 1/4"
wrapped present: 1" x 7/8"
birdie in box: 1 1/2" x 1 3/8"
whole cupcake: 7/8" x 7/8"
lit candle: 1/8" x 1/2"
cherry: 3/8" x 3/8"
"happy": 1" x 3/8"
"birthday": 1 3/8" x 3/8"